Raisins South Africa has seen a 13 per cent increase in production of its newly rebranded SA Sultana in 2021, compared to last year.
Despite the heavy rains and frost that affected parts of the South African crop earlier this year, exports to the UK of the rebranded SA Sultana – previously known as the WP raisin – have this year become a growing category.
South Africa has exported 75 tonnes of sultanas to the UK this year, of which 20 tonnes were the new SA Sultanas, the not-for-profit organisation revealed.
The SA Sultana is one of South Africa's premium raisin varieties, known for its attractive amber colour and natural sweetness. "South Africa is looking to grow the SA Sultana product category to 10,000-12,000 tonnes over the next three to five years," explained Ferdie Botha, CEO of Raisins South Africa.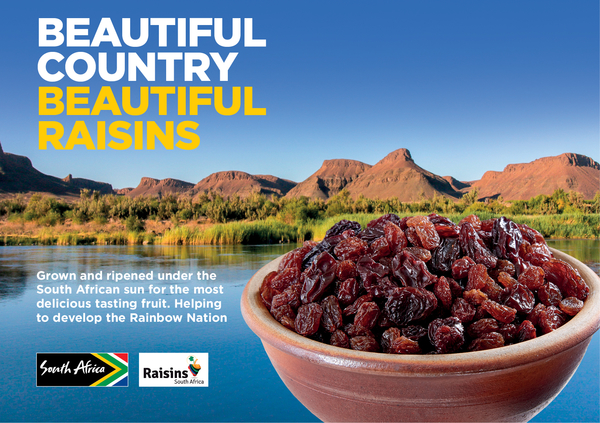 "Raisins South Africa, by working with key exporters, wants to ensure that this premium South African product is recognised as a product of excellent quality, intended to be marketed to our premium market clients internationally.
"Although the SA Sultana has been repositioned, the first half of 2021 did not offer the best circumstances to produce raisins in South Africa generally, as we lost 16 per cent to 18 per cent of our total product due to the unfavourable weather conditions," Botha noted. "The impact on quality was therefore managed to be as selective as possible in the selection and drying of grapes."
Sultanas are one of four main product categories offered by South Africa, and so the further diversification of their range to include the SA Sultana enables the industry to deliver more products to the UK market, making the production and export process more sustainable.
Raisins South Africa has revised and developed the new SA Sultana this year to standardise the category and to guide South African raisin packers.
"The notable sweetness of the SA Sultana is determined by the sweetness of the grapes when harvested, which is why South African producers only harvest the grapes once the grapes have the correct sugar level," the group said.
South African Sultanas are produced in the Orange River region. This region in the Northern Cape experiences exceptional levels of sunshine, on average 10.5 hours every day between January and March, which is when the fruit is harvested and naturally sundried.
Ranging from 33 degrees to 38 degrees, the region's dry, sunny climate, along with the ample supply of water from the rivers, makes ideal growing conditions to cultivate high quality sultanas.
Source: http://www.fruitnet.com/eurofruit/article/186117/sa-sultana-enjoys-uk-growth