South Africa and Namibia had bumper table grape export crops this year with the combined export volume reaching 80m cartons for the first time.
However, it was not an easy season and during the next few months there will need to be some serious introspection about the future, specifically about the unfavourable climatic conditions from the past season, combined with the logistical problems, which presented major challenges.
Southern Africa shift
An analysis of Southern African table grape production shows in 2021 the South African table grape industry exported some 72m cartons. Namibia contributed 8.4m cartons, and in doing so embraced its potential and showed a glimpse of what could be expected in the future.
Namibia exports its grapes in the early season from the beginning of November until about the middle of January. In this respect it falls in the export window of two South African regions, namely the Northern Region, which packed about 8.5m cartons this season and the Orange River, which, despite unwelcome rain, managed almost 20m cartons.
The early grape business from Southern Africa therefore amounts to somewhere between 37m-40m cartons. The bulk of these grapes are at this stage, predominantly sold in the UK and Europe. As Namibian production grows along with production in the Orange River and the Northern Regions, the supply in the period between November to February will be rising, resulting in increased competition for market share.
It must also be pointed out that over time the later Southern African regions, which produce about 40m cartons, have shifted to earlier harvesting by planting earlier varieties. Traditionally the Hex River region – the late region in South Africa – did not start harvesting before the end of January. Now they pick their early varieties before Christmas.
For the South African industry there is therefore only one option and that is to expand its markets. Increased activities in Asia and in China, in particular, are seen as part of this strategy. The other problem is that the process of opening new markets has perhaps more difficult than first thought, an issue compounded by rapid increases in production.
New varieties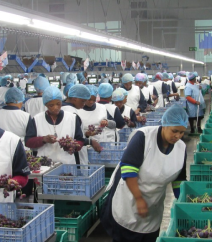 South Africa has in many respects been at the forefront of introducing new and exciting varieties. In fact, some commentators argue that there are perhaps too many new varieties being offered to the industry and that some of these varieties have possibly not being tested properly in terms of their production and market suitability.
Leading growers have been quick to plant some of these varieties in order to stay ahead in the marketing game to offer consumers the best possible products, which would also allow them to remain sustainable in the long-term.
Often varieties that have been planted recently and which do not perform well, are culled within a few years of being planted. "We simply cannot keep varieties which do not make the grade both in terms of resistance to adverse weather conditions or who do not perform in the market," said one grower.
During this winter the best varieties to plant will certainly dominate discussions within the industry. A number of recent arrivals may well fall by the wayside. At the same time, a number of great new varieties will confirm their status and those are likely to be the varieties of the future. To speculate which varieties they will be is perhaps dangerous. Plantings this year and the vineyards taken out this year or next will certainly point towards future trends.
Logistics hold up
One other crucial topic which will preoccupy the Southern African table grape industry this year is how to deal with what is becoming an increasingly difficult export logistics scenario.
The bulk of Southern African grapes are exported through Cape Town where the local port has presented many efficiency problems, with wind delays during the peak of the season causing major disruption. This was compounded by the fact that the normally very reliable door-to-door shipping option by using refrigerated containers has also showed some vulnerability.
This season there were not enough containers available to South African table grape exporters at times when they were needed most. Some were often left in the port when container lines simply bypassed the Cape because of threatened delays in their shipping schedules.
At this point the great debate is whether it is not time to return to more conventional reefer shipping, which has so far been successfully implemented this citrus season with shipments to Europe and the UK.
To make this a reality in the table grape business there will have to be a great deal of cooperation between exporters, who are these days mostly leading growers who produce a sizable volume. Without a unified approach from these exporters the problems with shipping logistics are unlikely to be resolved.
The modern-day conventional reefers are reported to shorten the time between farm end receiver when a limited number of destination ports are targeted. There are arguments that this mode of shipping should be used much more effectively along with the opportunities presented by door-to-door container shipments.
There is therefore much to think of this year in the vineyards of Southern Africa to ensure stability and sustainability in the table grape export business.
Source: http://www.fruitnet.com/eurofruit/article/185388/mixed-season-for-southern-africa-grapes