A bumper 2020 lychee crop is helping to transform the lives of small-scale farmers in Mozambique's Manica Province, stimulating the local economy and boosting employment.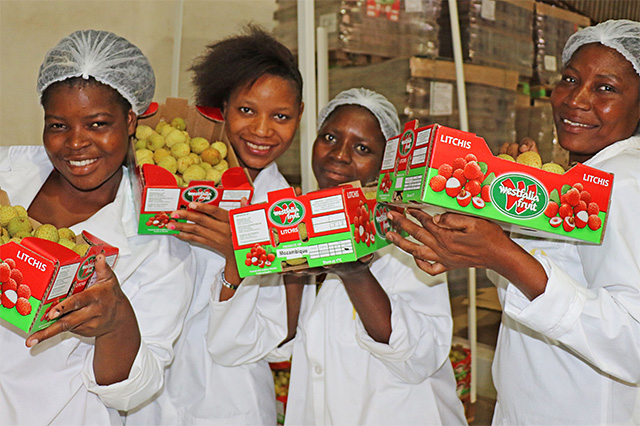 Over the past five years, Westfalia has helped farmers secure market access to Europe, as well as gaining GlobalGAP certification and a World Bank grant to boost productivity.
The company began working with lychee producers in Manica in 2014, growing from an initial eight smallholder growers to more than 200.
Since Mozambican lychees are harvested two weeks prior to Madagascar, Westfalia recognised their potential on the European market, enabling importers there to extend their lychee campaigns.
Following the formation of the Manica Lychee Growers Association (MLGA) in 2016, Westfalia facilitated the marketing and export of the lychees to Europe.
The success of the programme persuaded growers in Manica to increase their plantings, while Westfalia initiated training programmes to help growers achieve GlobalGAP and Grasp certification, thereby encouraging more growers to join.
The World Bank awarded a grant to Westfalia to provide the growers with microjet irrigation systems to improve the size of the fruit and the chance of premium prices. The fund also covers a roll-over fertiliser programme and a sulphur-free lychee preservation machine for the packhouse.
"The effect of the successful lychee project is evident in the area, and we see the lives of smallholders changing completely," said Mike Jahme, general manager of Westfalia Fruto Moçambique. "Growers are expanding, and today some of the growers are seen as commercial farmers. It is extremely rewarding to see such development in such a remote part of the world."
"We are thrilled with the success of the project and the positive effect it has had on the local community," added Zac Bard, CEO of Westfalia Fruit Africa. "In this very remote part of the world, we see young people who are optimistic about the future of their lychee crops coming back to assist and take over their family farms. We look forward to seeing the area transform into the fruit basket of Mozambique."
Source: Click here