Despite being negatively impacted by a series of local alcohol sales bans, global freight and localised port issues, and a shortage of glass and packaging materials, export volumes of South African wine recovered to a healthier volume of 388-million litres, while the total value of local exports grew to R10.2-billion in 2021.
South African wines nonprofit promotional agency Wines of South Africa (WoSA) reports that this figure is most positive when compared to 2018 exports where a total volume of 420-million litres fetched only R9.1-billion.
The UK, South Africa's largest wine export market, showed good growth with a 10% increase in volume and a 25% increase in the value of packaged wine; despite earlier fears about a negative impact brought about by Brexit and the Covid-19 pandemic.
"I am very heartened by the 2021 export figures. It is evident that our key markets see South Africa as a producer of consistently high-quality wine and that even under trying conditions we endeavour to keep supplying our markets and continue to sell wine responsibly, which further instils a sense of trust," says WoSA CEO Siobhan Thompson
This growth was mainly seen in the independent and specialist wine sector, as well as in high-end multiple grocers. WoSA says the UK market has been "very supportive" of South Africa's wine industry during one of the toughest times it has ever faced and this can be seen in the growth of such exports.
Meanwhile, WoSA also notes that a trade war between China and Australia over the past year presents increased opportunities for South African packaged and bulk wine owing to the availability of quality wines which has enabled South African wineries to more than double their market share.
This translates into a large increase in listings of South African wines in major Chinese retailers with a number of national importers who have also expanded their portfolios to include South African wine.
African markets have also shown an "excellent recovery" in 2021, WoSA reports, with export volumes exceeding pre-Covid-19 levels. Markets driving this growth are Nigeria, Kenya, Tanzania, Uganda, Mozambique and Zimbabwe. WoSA points out that additional market insights show that this will continue in the future as the market expands.
The European focus markets of Germany, the Netherlands and Sweden remain largely stable, which is positive, despite harsh lockdown measures in all of these countries, which had a direct impact on trading conditions.
Both North American markets of Canada and the US have shown volume growth, mainly driven by bulk wine exports; however, in these traditionally challenging markets and given the impact of the pandemic, this is considered to be positive on the whole.
Data by wine industry data and analytics provider Gomberg-Fredrikson confirms the growth of South African wines in the US. In 2021, South Africa was the only New World country to see positive numbers, with imports of packaged South African wine up 18% over 2020.
Packaged wine exports, which is pivotal in growing South Africa's quality image, was impacted heavily by packaging supply issues, but ultimately managed to show good recovery, growing 6.7% in volume and 9.2% in value.
Also, increased exports of bulk wine helped correct a growing surplus of stock that was caused by numerous alcohol bans in South Africa in 2021.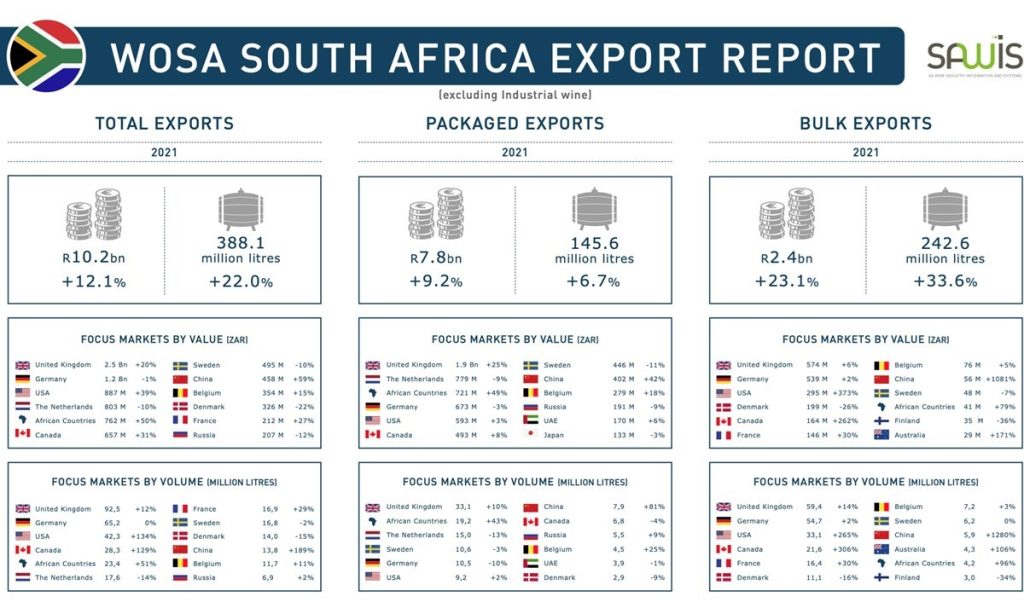 The value of bulk wine exports (excluding industrial wine) increased by 33.6% in volume year-on-year, with white varieties dominating in 2021 with the year-on-year growth being driven particularly by the demand for Chardonnay, which was 167% higher and Sauvignon Blanc, which was 79% higher.
Further, WoSA notes that, positively, the long-term growth in rand per litre of bulk wine increased 8% on total bulk exports and 32% on still white wine between 2018 and 2021.
Moreover, traditional-method sparkling wine – Cap Classique, rocketed 40% in volume in 2021 and is steadily gaining traction in a competitive segment, which is shared with champagne, prosecco and cava.
She adds that WoSA looks forward to welcoming trade and media from around the world to visit CapeWine from October 5 to 7, and will strengthen WoSA's position as leaders in sustainability practices through its theme, Sustainability 360.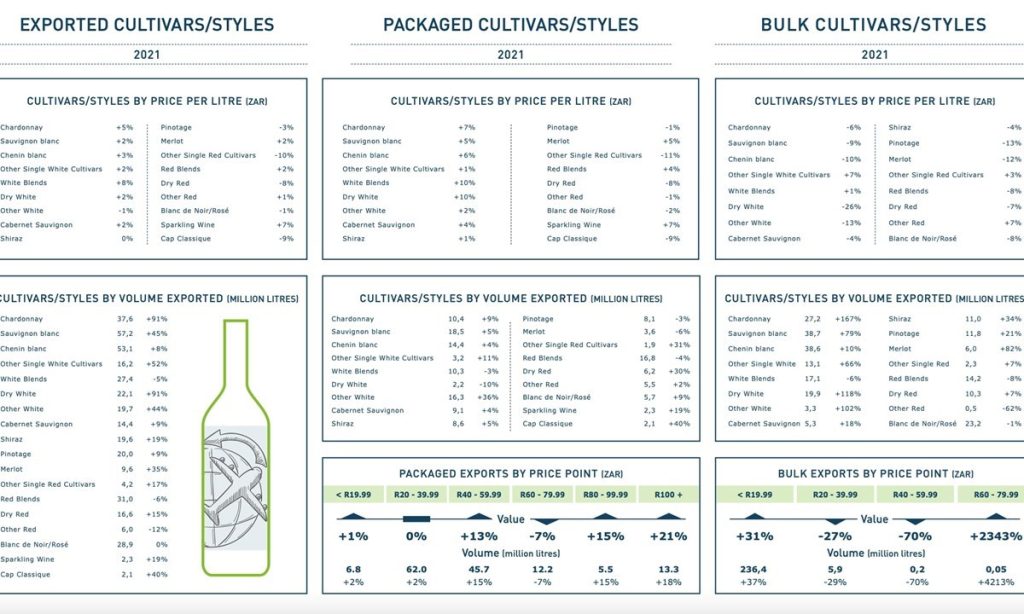 Source article: Engineering News (and added data from SAWIS)