"As a fast-growing market, China can't be neglected by any winery," Henriëtte Jacobs, the international sales manager of Spier Wine Farm, told the Global Times, adding that the company's exports to China have continued to grow exponentially during the recent years, and the Chinese market is becoming one of the company's most important strategic markets.
Jacobs' remark speaks for multiple wineries from South Africa, who have been adopting various strategies and tactics in a bid to get a slice of the emerging Chinese market.
For instance, Spier has been taking several approaches specifically targeting Chinese consumers, such as designing easy-to-open caned wines to attract Chinese youth, crafting wine labels based on Chinese Zodiacs, opening its official account on WeChat, China's largest social media platform, and deploying employees to promote wine products in China.
Appealing market
The exports of Australian wine plunged by 95 percent at the end of 2020 after China imposed anti-dumping measures on the country's wine exports, causing Australia to forfeit its leading position for wine imports in the massive Chinese market. Industry insiders noted that this could be a potential opportunity for South African wines.
"Honestly speaking, every wine producing region and country wants to get a growing slice of the pie of the Chinese wine market, but a stable bilateral relationship is a perquisite and basic guarantee which South Africa has an advantage," Marcus Ford, Asia market manager of Wines of South Africa (WOSA), told the Global Times.
Ford added that China and South Africa are important economies in Asia and Africa with very warm trade relations, while the quality of South African wine enjoys acclaimed reputation in the Chinese market. He hoped that more Chinese consumers will be able to appreciate the unique and high-quality South African wine in the future.
Ford noted that even though the market share of South African wine in China is still relatively small, accounting for merely one percent, sales has surged 10 times in the past decade and the development of the bilateral wine trade has kept accelerating over the past six months. "We are more confident about the future," he said. 
Ford pointed out that Chinese consumers are becoming increasingly wine savvy, and the Chinese wine market is bound to become more and more open and increasingly diversified, so the prospect for South African wine in China is rosy.
"The good bilateral ties between China and South Africa are a significant basis for promoting their economic and trade cooperation and partnership, and I believe that the close ties between the two countries will be reflected on the people's level," said Ford, hoping that South African wines become a new tie to connect people from the two countries.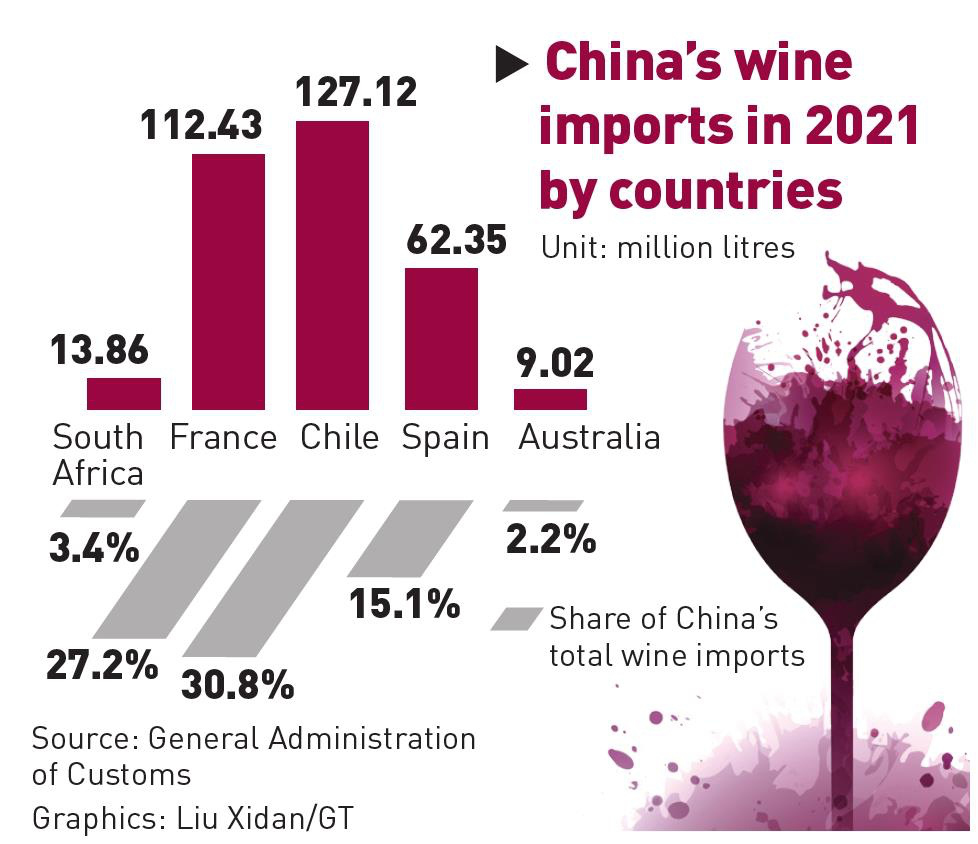 Targeted strategies
Spier is one of the many South African wineries that are optimistic about the potential of the Chinse market. Jacobs stressed the importance to establish a brand image of South African wine for Chinese consumers in a bid to capture the "Chinese appetite" especially as local consumers' tastes vary. 
Therefore, Spier has prioritized to promote the concept of history and environmental protection in its marketing strategy. While emphasizing its heritage of South African wine making history for hundreds of years, the company is now fulfilling 100 percent wastewater and 96 percent solid waste recycling.
Aiming to promote a sustainable regional development, South Africa introduced the first "certified integrity and sustainability" label in the global wine industry in 2010. The label, placed on the neck of wine bottles, means that 100 percent of the grapes used for wine-making comes from the region indicated on the packaging and is packaged in South Africa, while around 85 percent and more of the grapes are guaranteed to be the same type and from the same year.
It is not easy for local wineries to obtain the label, as wineries have to meet multiple requirements such as reducing fertilizer use and protecting workers' rights in order to qualify for the certification. 
Jacobs said that Chinese wine consumers are becoming more sophisticated, adding that Spier has taken some strategic approaches to attract Chinese consumers.
For example, several canned wine products have been welcomed in the Chinese market, as the small and portable wine products are easy to carry around which is favored by younger consumers.
Moreover, Jacobs said that Spier once envisioned launching a new wine label for the Chinese New Year that focused on the year's zodiac sign. Although the plan was not implemented in the end, careful consumers can still find Chinese cultural symbols on the brand's traditional white label, which is a balance of Spier's aesthetic and Chinese elements.
Ford said that the South African wine industry and distributors should pay attention to the fact that China is leading the world in terms of internet marketing and logistics development, according to a report by WOSA. Meanwhile, consuming wine at home may become a new consumer trend in the post-pandemic time, so South African wine brands should strive to create a convenient marketing model to bring products from South African wineries to Chinese consumers' kitchen tables.
Source Article: Global Times