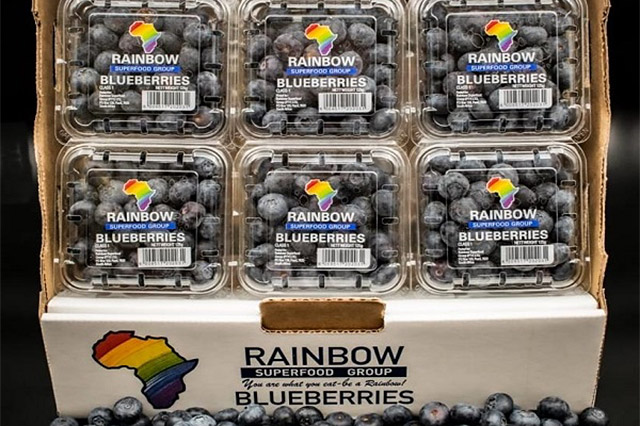 The South African blueberry season is gaining momentum as growers across the country move to peak production.
South Africa will this campaign export some 25,000 tonnes of blueberries, continuing the steep rise in production and exports of the past few years.
If it materialises, this year's projected export volume of 25,000 tonnes will be an increase of 63 per cent on last year's export volume.
The country's blueberries are mainly sold in the UK and Europe, with moderate rises in sales in the Middle East and the Far East during the past couple of years.
The country remains on track to achieve 5,000 hectares of plantings during the next four years. If this is realised, South Africa will export around 55,000 tonnes in 2025 – some 220 per cent more than this year's anticipated export volume.
In terms of the global blueberry business, South Africa is a relatively small player. The country only exports around 5 per cent of Southern Hemisphere production. South Africa is not listed amongst the top ten producing countries in the world.
However, due to South Africa's geographical position, the country is in the ideal position to serve both western and eastern markets.
Some observers believe that it is in a far better position to service the large consumer markets of the east than perhaps some of its competitors in South America, with strong historical and geographical supply links to Western Europe and the UK.
In recent years, more blueberries have been planted in the northern regions of South Africa as well as in neighbouring countries, as producers and exporters look to these nations to offer niche marketing opportunities in the main markets of Europe and UK.
The majority of production is still located in the Cape region which dominates the season from July through to November.
As it moves towards the peak of the 2021 season, the South African industry is keenly aware of the fact it will again have to deal with the effects of Covid-19.
While on the farms and in packhouses the industry is now well geared to managing the pandemic, it continues to throw up logistical challenges. South Africa is experiencing its third and rather aggressive wave of Covid-19.
Although in the grand scheme of things South Africa is a relatively small global producer, increases in exports during the past five years have been impressive.
The local industry association, Berries ZA, said that during the past five years production had grown by nearly 400 per cent. To reach its target of 5,000 tonnes by 2025 the industry will have to grow by nearly 160 per cent over the next four years.
At present, South Africa is not in the ideal position as far as airfreight is concerned, which in the past has been the preferred mode of export for blueberries.
There are not enough international flights from Cape Town at present and fruit destined for airfreight must be transferred by road over 1,600km to Johannesburg.
Even from there, exporters are not certain that they will have enough space available. It all comes at a heavy cost in terms of transport and much higher airfreight than usually applies.
For this reason, leading exporters have been concentrating on opening more opportunities for seafreight.
However, the port of Cape Town does not have a particularly good reputation for reliability and there are several challenges that growers and exporters will have to face during this season.
Enjoyed this free article from Eurofruit Magazine and its team of editors? Don't miss out on even more in-depth analysis, plus all the latest news from the fresh produce business. Subscribe now to Eurofruit Magazine.