The transformative power of the export manufacturing sector in Lesotho has been apparent over last two decades. The textile and apparel industry grew from having just a handful of factories in the 1990s to becoming the largest private-sector employer, providing over 50,000 jobs (mostly to women), and directly and indirectly benefitting 13% of Lesotho's population. Between 2001 and 2004, textile and apparel exports from the Lesotho to the US increased from $140 million to $450 million – a 220% increase.
The foreign investment that poured into Lesotho during this time facilitated structural transformation and boosted the long-term competitiveness of the sector, and despite losing some of its competitive edge in the early 2000s, Lesotho had developed the infrastructure and capabilities to tap into new markets. The manufacturing sector grew by 34% between 2014 and 2019, owing largely to a tripling of textile and apparel exports to South Africa, which has helped offset the decline in exports to the US.
The textile and apparel sector is also a key employer of women, accounting for 80% of textile workers in Lesotho.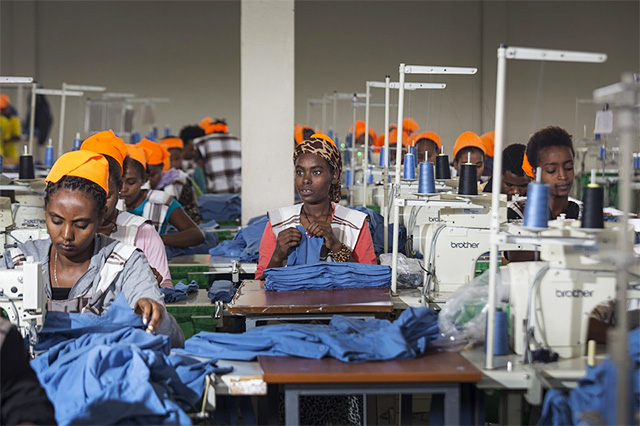 However, the COVID-19 (coronavirus) pandemic has adversely affected nearly every part of the economy, including textile and apparel sector. Lesotho is facing a tough fiscal outlook as the Southern African Customs Union (SACU) transfers, private investments and exports are declining. Real gross domestic product growth is estimated to have contracted by 15.7% in the second quarter of 2020 largely due to the negative shock of the pandemic, and the government estimates that at least 4,000 jobs could be lost in the textile industry. Although the government has successfully introduced wage subsidies for factory workers through the Disaster Relief Fund and rental holidays for factories in the manufacturing sector, these are temporary measures.
A more productive and competitive manufacturing sector that is resilient to shocks is critical for reducing long-term unemployment particularly for youth, strengthening Lesotho's presence in the global economy, and ensuring the Kingdom emerges from the pandemic economically stronger than it entered.
There is significant opportunity to stimulate recovery and strengthen the sector's competitiveness. The government has committed to implementing reforms to create a more competitive investment climate, expand the export manufacturing sector and facilitate large-scale job creation in the manufacturing sector. In addition, the newly established Prime Minister's Delivery Unit will go a long way towards helping to coordinate priority reforms across government departments to stimulate the private sector to drive inclusive economic growth. This will require creating an enabling policy and legal environment to aid private sector competitiveness and the government to attract investment in sectors with high job creation potential.
A recently held discussion between the Prime Minister, Minister of Trade and Industry and various public and private sector stakeholders in Lesotho identified several bottlenecks that could be unlocked to improve competitiveness of the manufacturing sector; improving social compliance, strengthening value chain offerings, strengthening infrastructure provision and investment promotion.
Social compliance entails adopting fair wages, improving work conditions and utilizing ethical sourcing and transparent supply chains. Strengthening value chains can reduce costs substantially. Building upstream and downstream linkages such as launderers, embroiderers and wastewater treatment plans, can reduce lead times and expedite speed to market, which is a key consideration for many retailers. This also requires upskilling workers across the value chain.
Improving infrastructure – particularly energy, water, and waste management – is critical to making Lesotho more competitive with other key manufacturing destinations globally. Inadequate water supply has been identified as a key challenge in the Maputsoe and Nyenye Industrial Areas, which reduces efficiency and increases costs.
To support investment promotion, a 'Made in Lesotho' strategy can help Lesotho attract buyers in new markets and strengthen the presence in international manufacturing expos and exhibitions. The strategy could also include investment incentives to encourage investors into the domestic market or promote expansion of existing businesses.
Addressing these bottlenecks will help Lesotho tap into its potential to catalyze investments and reduce unemployment. In addition to textile and apparel, several high-potential manufacturing value chains such as leather, agro-processing and automotive components leverage comparative advantages that Lesotho already has – factories and warehouses, ample livestock, favorable climatic conditions for horticulture and demand for automotive components from neighboring South Africa.
Given that Lesotho is wholly surrounded by South Africa, making it highly dependent on its neighbor's economy and policies, developing a partnership to reduce trade facilitation barriers and reduce trade, logistics and input costs, could be mutually beneficial. Reducing costs and barriers, will make products more affordable for South African consumers.
For its part, the World Bank is committed to supporting the government with unlocking opportunities within these key manufacturing value chains.
Already, the government has worked with the World Bank to strengthen the environment for doing business. The World Bank-funded Second Private Sector Competitiveness and Economic Diversification Project (PSCEDP) has focused on measures to improve the business environment, including increasing access to finance, and supporting investment promotion in new sectors. Going forward, the World Bank has developed a Jobs Platform for Lesotho which brings together complementary and mutually reinforcing interventions to unlock both supply and demand side barriers to strengthening value chains.
The World Bank's Jobs and Economic Transformation agenda prioritizes support to micro, small and medium enterprises (MSMEs) given that most new jobs will be in MSMEs, particularly for women and youth.
This requires end-to-end support from ideation to market. Furthermore, skilling workers across the value chain is important to the growth of upstream and downstream linkages and improving the speed to market as well as collaborating with financial institutions to increase access to finance for MSMEs and entrepreneurs is critical to ensuring they have the capital to make investments to be competitive.
Source Article: World Bank Blog