Trade between Namibia and Ghana is expected to increase in the near future due to the Business-to-Business linkages that have recently been established between the two countries. One example of this growing, and mutually beneficial, partnership is a recent knowledge exchange and market linkage visit by Namibia Network of the Cosmetics Industry (NANCi) member companies, who were hosted by the Association of Cosmetics & Detergent Manufacturers, Ghana (Ghana ACAD-GH) from 21 to 26 November in Accra, Ghana.
The Namibian delegation, which comprised of six companies funded by Trade Forward Southern Africa (TFSA), was accompanied by the High Commission of the Republic of Namibia in Ghana. The selected companies included manufacturers of natural hair and skin products made from raw materials such as shea butter, ximenia oil, marula oil and moringa powder. The initiative was facilitated by NANCi and aimed at establishing Business-to-Business contacts between cosmetic companies in the two countries to support export growth and leveraging on the comparative advantage of natural ingredients that can be sourced locally in Namibia and Ghana.
During the event, the Namibian High Commission and the Ghana Export Promotion Authority (GEPA) signed a Memorandum of Understanding (MoU) to increase the volume of trade and promote linkages and B2B engagements within their respective cosmetic industries.
Speaking at a business breakfast meeting, Counsellor/Deputy High Commissioner of Namibia, Evilene Hansen, said "Ghana and Namibia have an excellent political relationship, but when it comes to trade, it is almost non-existent. We want to pay more attention to and increase that aspect, hence the MoU on trade and corporation. In terms of trade and economic diplomacy, we want to see Namibia and Ghana intensify their partnership; and one area that we have identified is the cosmetics sector, where both countries have a lot of raw materials and potential which can form a basis to enhance trade."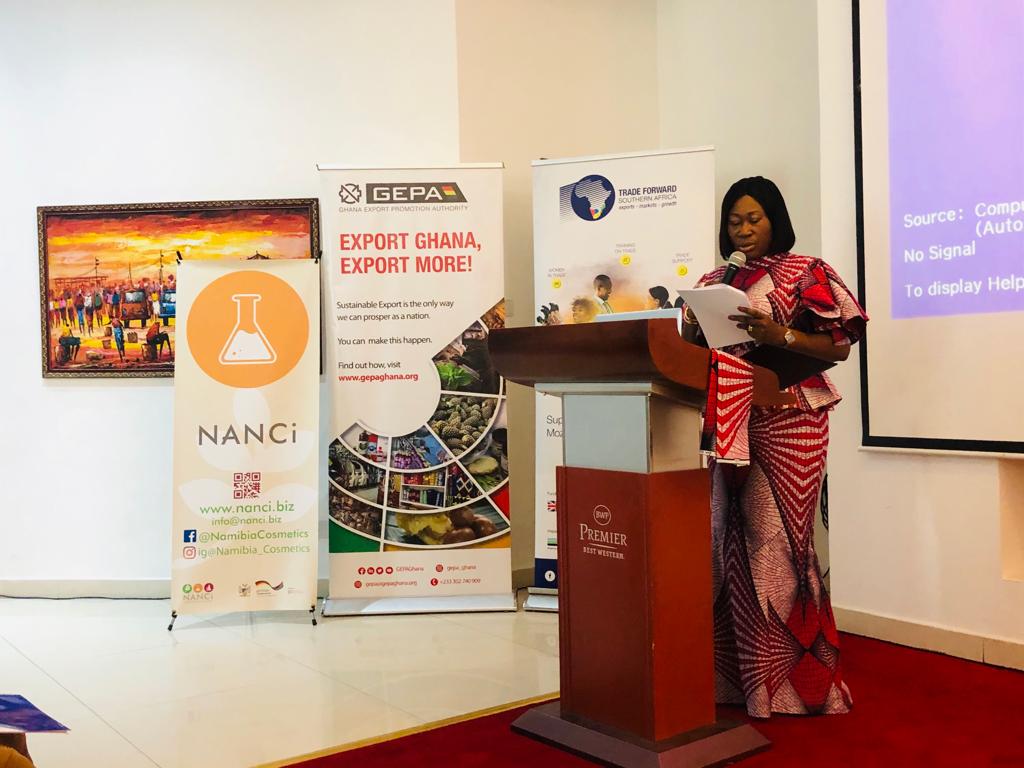 UK Government official, Godlove Otoo, stated, "The UK Government, through our colleagues at the British High Commission in Windhoek, is delighted to support Namibia's ambition to grow intra-African trade, particularly by providing relevant support to the private sector to benefit from the Africa Continental Free Trade Area (AfCFTA) through creating market linkages, providing firms with the market information and trade support necessary to maximise the opportunities under AfCFTA and other trade agreements."
The bilateral trade value between Namibia and Ghana in 2018 was around US$ 4 million, and declined to US$ 3.4 million and US$ 2.3 million in 2019 and 2020, respectively. Through this cosmetics initiative, the two countries are well on their way to increasing bilateral trade and positioning themselves to gain a larger share of the global cosmetics market, which is projected to reach US$ 463.5 billion in value by 2027.
In a speech read on her behalf, Dr Afua Asabea Asare, Chief Executive Officer of GEPA, said, "We want our women to become very competitive in the continental and global economy. We are putting in place training initiatives that will equip them with the right skills and tools to be productive while fostering partnerships with different countries and institutions to create marketing opportunities for exports."
Everyone involved saw this first visit as a great stepping stone for building profitable relationships. The delegation was introduced to the dynamics of the Ghanaian market, and got direct contacts with potential distributors, formulators and contract manufacturers, as well as introductions to potential production processes and manufacturing sites dealing in shea butter, cocoa butter, baobab oil, neem oil, and other natural fragrances and herbs.
Through site visits, the team also got a glimpse of a typical Ghanaian production facility, some of which are home based, yet certified for the international markets, which served as inspiration for different Namibian setups in manufacturing.
One of the NANCi members who was part of the delegation, Zodidi Gaseb of African Naturals, said of the visits, that "NANCi focuses on the health and beauty industry of Namibia and has carried out several research initiatives and projects to grow that sector in Namibia. Now, the time is due to expand this knowledge and ideas to other African countries while also tapping best practices and essential raw materials from elsewhere to enhance production quality."
Product development for export growth
Access to laboratory testing accredited by key export markets such as the EU, UK and USA has been an Achille's heel for many small cosmetics businesses in Namibia, posing a significant barrier to export. The partnership between NANCi and Trade Forward Southern Africa (TFSA), a programme funded by the UK Government, has helped facilitate access to accredited testing laboratories. Selected NANCi member firms were supported to improve their product formulation, have their products successfully tested and received the individual Product Information Files (PIFs), documentation which is essential for exporting of cosmetic products.
"It's very assuring [sic] when your products go through a lab like Cape Aloe, and you know things are done correctly and will meet EU market standards. I've had to redo tests in the past because they were not done correctly and according to standard requirements." Sophia Snyman, Desert Secrets
TFSA also worked with the Namibia Standards Institute to strengthen their ability to help producers conform to Good Manufacturing Guidelines, followed by firm-level training on GMP principles and two high-level workshops to raise awareness of this initiative with industry stakeholders. Through the support of the UK Government, TFSA is continuously working on multiple levels to reach and empower women-owned businesses, equipping them with the tools they need to successfully establish themselves as international traders.