Listed food manufacturing company, RFG Holdings says it is investing in renewable energy infrastructure to reduce the impact of load shedding and related water supply interruptions on certain of the group's facilities.
The company, with brands including Rhodes, Bull Brand, Squish, and Bisto, and an annual turnover of R6 billion, said it has solar installations planned for a further two production sites. RFG has 14 state-of-the-art production facilities and two farms – dairy and pineapple.
The group said that as part of its commitment to minimising its environmental impact by adopting renewable energy and introducing energy-saving measures, it investigated the installation of solar power at all its production facilities.
The first site to move towards green energy was the juice products factory in Wellington in the Western Cape with a solar rooftop installation that generates a peak power output of 928 kilowatts.
The group is evaluating a solar power project for the meat products factory in Krugersdorp and a biomass fuel project for the Eswatini plant.
Increasingly, companies note that Eskom, the national power supplier, has proven to be unreliable over recent years while hiking tariffs well above inflation. The state company is on course for a record year of load shedding in 2022.
South African Breweries (SAB) has also committed to exploring renewables to reduce carbon emissions and aims to have 100% of its purchased electricity come from renewable sources, and carbon emissions will be reduced by 25% across its value chain by 2025.
In March, the group signed a Power Purchase Agreement with an industrial scale biogas waste-to-energy company, Bio2Watt. Renewable energy will be supplied from the Cape Dairy Biogas Plant once it reaches commercial operation.
Although the plant is still in the process of being built, it will make use of waste collected from one of South Africa's largest dairy farms. Over 7,000 cows residing on the farm will see the plant make use of slurry manure with a mix of other wastes from the surrounding region to produce renewable electricity, it said.
"Under this Power Purchase Agreement and installed renewable electricity, SAB will achieve 23% contracted renewable electricity," said VP of Procurement and Sustainability in Africa, Conor Ruff.
All of SAB's Breweries in South Africa already use solar power, while the company also began testing an electric truck in 2022, which it hopes to roll out later this year.
Anglo American, meanwhile, aims to take its entire South African operation entirely off the grid.
The group is working with renewable energy firm, EDF Renewables, to develop a regional renewable energy ecosystem in South Africa. The ecosystem is expected to be designed to meet Anglo American's operational electricity requirements in South Africa through the supply of 100% renewable electricity by 2030.
Anglo is planning three solar PV plants in South Africa by 2023, and earlier this month unveiled the world's biggest green-hydrogen powered truck where it aims to replace a fleet of 40 diesel-fueled vehicles.
The NuGen project at the Mogalakwena mine will use power from a 140 megawatt solar plant to supply hydrogen electrolyzers to split water and provide the trucks, which can carry up 315 tons of ore each, with hydrogen fuel.
The project, expected to be fully implemented by 2026, is a first step in making eight of the company's mines carbon neutral by 2030.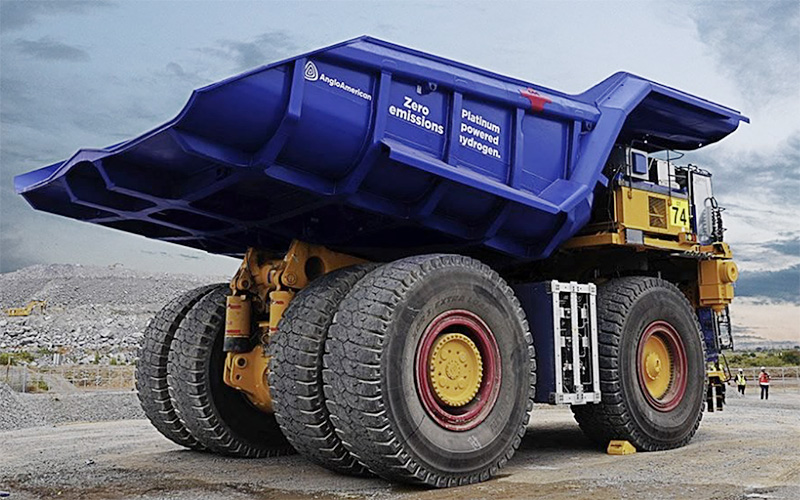 Makro also began rolling out renewable energy solutions at select stores in 2016, and has a total of six solar plants generating clean electricity that is fed directly into stores. This will allow these stores to reduce their total monthly electricity bills, and alleviate pressure on the national grid.
Similarly, Telkom's photovoltaic solar farm at its campus in Centurion was completed in 2016, and is fully operational. The solar park produces 16MWh of power per day, and covers roughly 1,800 carports.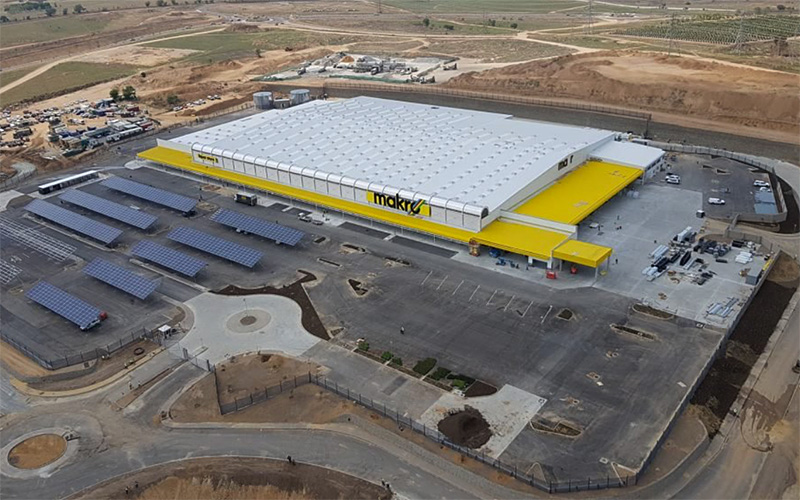 In May Ford's Silverton Assembly Plant in Pretoria, which produces the Ranger pickup for domestic sales and exports to over 100 global markets, flipped the switch and is now sourcing 35% of its electricity from solar following the installation of solar photovoltaic (PV) carports for 3,610 vehicles.
"SolarAfrica's innovative, large-scale solar array uses a total of 30,226 solar panels to generate 13.5MW of emissions-free electricity for the Silverton plant. This makes it one of the largest solar carports in the world, and a truly ground-breaking renewable energy project for the domestic automotive industry."
It also supports Ford's ambitious global targets to use 100% carbon-free electricity across its manufacturing operations by 2035, and achieve carbon neutrality by 2050.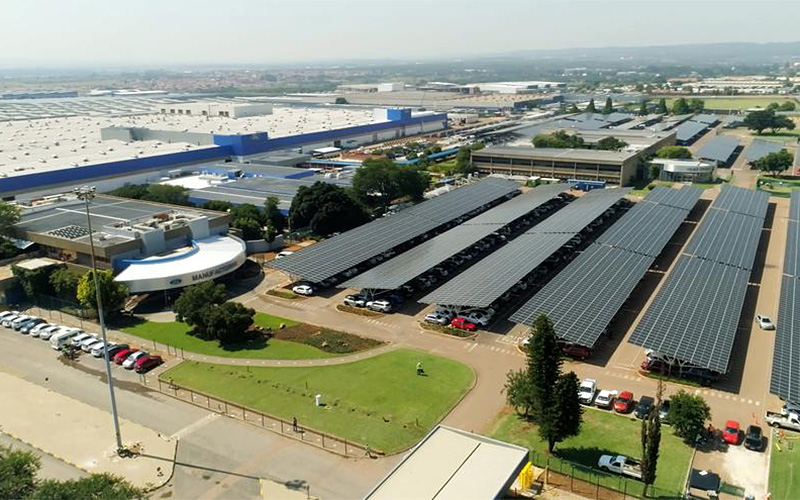 Source article: Businesstech