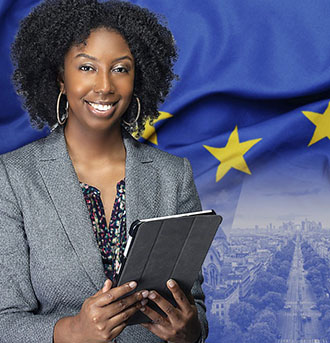 Navigating EU Markets Digitally
TFSA's webinar on Navigating European Markets Digitally will showcase a two-step process for export to the EU. The first step will focus on using ITC Market Potential Map and TradeMap to identify export opportunities for SACU+M (Botswana, Eswatini, Lesotho, Namibia, Mozambique and South African) exporters in the EU. The second step will demonstrate how to use the EU MyTrade Assistant to identify customs duties, taxes, rules, regulations and standards for exporting products to the EU. This two-step process will allow exporters to accelerate and simplify their research and find the critical information they need for export success. By the end of this webinar, exporters and BSO managers will know the essential resources to get the information they need and how to get it. We encourage women-led/owned export businesses to participate as we will be exploring sectors that women historically dominate.
In addition to showcasing how SACU+M businesses exporting to EU markets can use the two-step process, Siyakhanda International Trade Concepts will demonstrate their world-class software solution for Exporters and Importers. APIEX, the Mozambiquan national trade and investment promotion organisation, will chair and moderate the session. We strongly encourage participants to explore both these websites in preparation for the webinar, https://trade.ec.europa.eu/access-to-markets/en/home and https://exportpotential.intracen.org/en/e. Preparation will allow for a more robust engagement level.